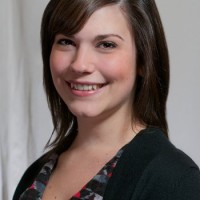 Elise Valentine

Catch Elise on air every weekday from 10 am – 3 pm!
Elise Valentine has a passion for music and a love for broadcasting! She graduated from Keene State College in the spring of 2008 with a dual Bachelor's degree in Communications and Journalism, with a focus in Broadcast Media. She worked for WKNH 91.3 FM, Keene State College's radio station, where she found herself in a variety of management positions that included Events Coordinator, Music Director, and lastly General Manager where she held that rank for 4 ½ semesters.
Elise began working for Great Eastern Radio LLC in December '08 and was eager to learn and adapt to a commercial radio station! She began doing the overnight shift on K-Rock 101.9 FM, where after a period of time settled into mid-days, to finally the evening drive where she stayed until the final chapters of this regional rock station.
Elise also serves as Great Eastern Radio's Production Director and Director of Programming to WEEY 93.5 FM, an affiliate to WEEI, Boston's Sports Radio.
She listens to all genres of music, and loves to dance! She grew up listening to classic rock and has seen several bands in concert, like Def Leppard, Heart, KISS, Mötley Crüe, and Van Halen – however one of her favorite shows was Lady Gaga and her first ever was N'Sync! Her favorite types of movies range from Indie flicks to action and adventure. She enjoys a good horror and comedy too!
Elise is an outgoing and fun-loving girl-next-door! She loves meeting new people and chatting with fans. She also has her own mobile DJ business! Book her for your private party, company gathering, graduation party, or even wedding! Friend her on Facebook at www.facebook.com/elise.valentine.7.