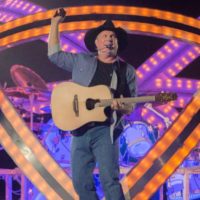 Garth Brooks has announced 18 new dates for his headlining Las Vegas residency, Garth Brooks/Plus One, at The Colosseum at Caesars Palace. The new 2024 dates span from April through July.  Brooks posted on social media: "ANNOUNCEMENT: New 2024 shows for Garth Brooks/Plus ONE, The Vegas Residency at The Colosseum at Caesars Palace go ON SALE 5/31. Register now through Thursday, 5/25 at 5 PM PT to become a Ticketmaster verified fan https://ticketmaster.com/GarthVegas ! -Team Garth"
Brooks shares: "When the 2023 shows went on sale, I felt extremely fortunate and blessed. To even think I would get do this for another year makes me happier than I can explain. Thank you for the chance."  The new dates are as follows:
• April 2024: 18, 20, 21, 25, 27, 28
• May 2024: 2, 4, 5
• June 2024: 26, 28, 29
• July 2024: 3, 5, 6, 10, 12, 13
Fans who previously signed up and were unable to purchase tickets for the 2023 dates will have first access to purchase tickets to the 2024 shows with a special Verified Fan presale. More info will be sent to eligible fans via email. All other fans can register through Thursday, May 25th at 5 pm PT for the Verified Fan Onsale via Ticketmaster. The Verified Fan Onsale or the Citi presale will be the only ways for fans to access tickets. Fans who are selected to receive a code will be able to access the Verified Fan Onsale starting Wednesday, May 31st.
Editorial credit: Sterling Munksgard / Shutterstock.com